We are delighted to be partnering with National World Gaming and the community-based suite of responsible games that go with it. This is an Affiliate Post for one of the National World Gaming products, which is available to 18+ UK Residents only. Please be gamble aware.
Following a scintillating opening gameweek of the Premier League season, Manchester United will square off against Tottenham Hotspur in North London on Saturday, August 19 with a kick off time of 5:30pm BST.
Manchester United opened their season with a tight, tense win over a stubborn Wolverhampton Wanderers outfit on Monday evening, while Spurs played out an exciting 2-2 draw away at Brentford.
United will be looking to build on their success, while Tottenham are still searching for their first victory of the Premier League season. Who will come out on top?
Where can I watch Tottenham Hotspur vs Manchester United?
Tottenham Hotspur vs Manchester United at the Tottenham Hotspur Stadium will be available to watch live on Sky Sports Main Event and Sky Sports UHDR – the game is scheduled to kick off at 5:30pm, barring any delays.
How to play Single Game Survivor
If you would like to try your hand at Single Game Survivor, here is what you'll need to know.
The game revolves around questions that will be asked before a match – for example, you may be asked to predict which team will score first or who will be the first to win three corners.
Even if you get one of your predictions wrong, you still have the opportunity to win a share of the cash prize – you will get two lives during the game, so there's always room for error.
You will be asked eight questions in total – get two of them wrong and it's game over for you. Will you survive? You can sign up for the National World Gaming Single Game Survivor here. Entries for Tottenham v Manchester United close at 5:30pm on Saturday.
____________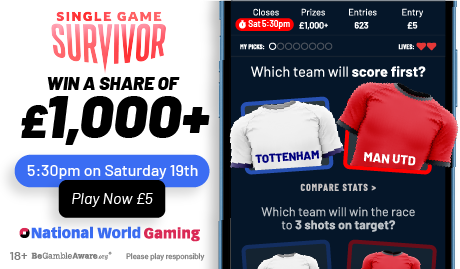 Competition rules and terms & conditions apply.
18+ UK Residents only | Please Play Responsibly | www.begambleaware.org